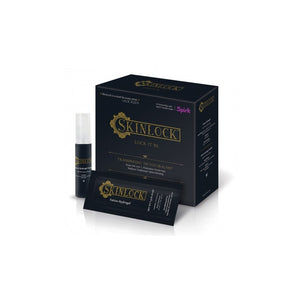 Skinlock Transparent Tattoo Sealant 紋身修護劑
SkinLock is more than just a cutting-edge tattoo bandage alternative. Developed collaboratively by a physician and tattooers, SkinLock's hydrogel solution, coupled with SkinLock Sealant Spray (both included), creates a transparent, breathable barrier over a finished tattoo that promotes healing while protecting the tattoo from dirt and bacteria; completely eliminating the need for secondary dressings.
The new 25% larger pump bottle and spray bottle, that is double the size of the previous version, was designed based on artist feedback to provide more control and value in every use.
It's time to ditch the plastic wrap and try the SkinLock Solution.

Details

Hydrogel sealant
Provides a thin, flexible, transparent, protective coating
Petroleum-Free
Vegan-Friendly
Manufactured with only USP grade ingredients that meet the highest quality standards
Box includes 24 packs of 5g hydrogel foil packs and a 1oz spray bottle of sealant
---
We Also Recommend
---